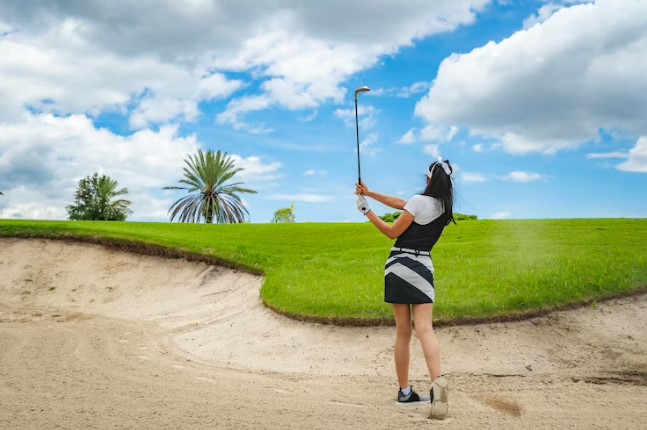 16 Mar

The Ultimate Guide to Golf Courses in Adelaide- Top Picks, Course Features, and Tips for a Great Game

Known for its rich history and multicultural atmosphere, Adelaide is a stylish city with a rich history. What else do you need to know? Well, you can't miss out on some of the world's best and most renowned golf courses. Adelaide is known as a 20-minute city because it is relatively easy to get around.

Adelaide, the state's capital, is home to most of the state's one-and-a-half million residents. It is no secret that Australians love sports, but Australian Rules football and cricket are much more popular than golf. But Australia's climate and outdoor lifestyle have helped golf become a popular sport, and it is played all year long. More than 1,500 golf courses are found in the country, making it the top golf country per capita. Australia has a wide variety of golf courses, including famous golf courses in Adelaide from heavily wooded and hilly to coastal links. Likewise, golf courses in Adelaide vary in size, ranging from expensive, exclusive private clubs to small, local nine-hole courses.

With this ultimate guide, we'll be looking at the best golf courses in Adelaide, their features, and tips for making the most of your game:
1) Aston Hills Golf Club:
Aston Hills Golf Club at Mount Barker combines history and tradition into a friendly environment. Located in the Adelaide Hills, the golf club is an easy walking course with majestic gum trees.
Features:
  Golfers of all levels are sure to enjoy this course.

  There are gentle undulations, lush fairways, and excellent greens on this par 70 course.

In addition to strategically placed ponds and creeks, there are numerous obstacles to overcome while playing.

  There is no doubt that Ashton Hills is one of the best golf courses in the country, and it has wonderful amenities such as an enormous practice range, putting green, and delicious cuisine prepared to order.
2) The Royal Adelaide Golf Club:
The Royal Adelaide Golf Club is considered to be one of Adelaide's most prestigious golf clubs. Since 1892, the RAGC has hosted the Australian Open on nine occasions (originally on the North Parklands, then at Seaton in 1906).
Features:
The course is open to the public during limited time windows on select days, and reciprocal clubs in Australia and abroad are welcome to book a round. 

Among the unique features of the Royal Adelaide Golf Club is that a train track runs through it. A train passes within 10 meters of the opening tee box, making it intimidating for visitors. 

As part of its commitment to providing its members and guests with a memorable experience, the club offers high-quality facilities, including a restaurant that serves breakfast, lunch, and dinner.

Among the perks of membership are access to one of the top ten golf courses in Australia as well as a pretty much-guaranteed tee time on weekends. In addition, you'll be able to join other 'Royal' clubs around the country as well.

Course Highlights include 3RD, PAR 4, 266 METRES, designed with all the golfing elements needed for a classic two-shotter without using a single bunker. 
3) North Adelaide Golf Club
:
This may be the only golf course of its size (54 holes over three courses) located just a kilometre from the city centre. Founded in 1890, North Adelaide was one of the first golf courses in Adelaide. It was a championship-style course, but later in 1921, it became an 18-hole golf course.
Features:
This golf course consists of three courses: the South Course, a championship-style Par 71; the North Course, a shorter but no less challenging Par 69; and the Par 3, an 18-hole course where the longest hole is 140 metres long.

With picturesque parkland and trees surrounding the course, North Adelaide ensures that the grass types are maintained to an extremely high standard.

Golfers of every ability can play this public course due to its affordable green fees.
4) Kooyonga Golf Club
:
Kooyonga Golf Club is ranked number 25 in Australia and has hosted international games including five Australian Opens, nine South Australian Opens, and eight Australian Amateur Championships.  
Features:
Despite its traditional design, this course has consistently been upgraded to improve playability and feel while preserving its original integrity.

Located near the beach and with a modern clubhouse, taking in the sweeping views of the fairway on one of its well-appointed terraces will be a highlight of your trip.

It was designed by H.L. Rymill

With a par of 72, the course measures 6,308 metres (6,899 yards) in length
5) Glenelg Golf Club:
A nationally acclaimed course, Glenelg Golf Club is located near the beachfront area, just a short drive from the CBD. As a club with a strong community base, its goals are to provide excellent hospitality and facilities for guests.
Features:
Using the area's original landscape, the course features naturally contoured elements with plenty of natural vegetation.

Herbert 'Cargie' Rymill created the course design

This course has a length of 6,267 meters and a par of 71
6) The Grange Golf Club:
Frequently upgraded and redesigned, the Grange Golf Club's East Course was most recently completed by Greg Norman Golf Course Design in 2012. 
Features:
This championship layout is sure to challenge and excite golfers of all levels, and the West Course is equally thrilling, making it a worthy inclusion in our Adelaide Golf Tour.

With its award-winning function spaces, The Grange is a popular destination for corporate golf retreats, weddings, and other events. 

The Grange is one of Australia's best golfing complexes, offering not one, but two Top 100 courses.

The golf course was designed by Vern Morcom

With a length of 6,278 meters and a par of 72, the course consists of 18 holes
7) Mount Osmond Golf Club
:
Located just outside of Cleland Conservation Park, this golf course offers beautiful views across the city and beyond. 
Features:
This 18-hole course is located in the foothills of Adelaide and offers breathtaking views of the Adelaide CBD, Mount Lofty Ranges, and coastline. 

Wide undulating fairways, challenging greens, and stimulating course layouts assure a memorable round every time.
8)  Westward Ho Golf Club
:
Situated just west of Adelaide Airport and the CBD, Westward Ho Golf Club offers you access to two golf courses- the Executive 50 Course & the Patawalonga Course.
Features:
In addition to being extremely accessible, Westward Ho Golf Club makes it easy than ever to enjoy a round of golf regardless of your skill level. 

Their championship-style Patawalonga course challenges and tests the more experienced golfer, while their Executive Par 50 course will delight any beginner with its links-style fairways.

In addition to the links-style fairways, the par 50 course includes five par 4s and ten par 3.

Patawalonga Course voted one of the best public courses in South Australia, is surrounded by numerous bunkers, resulting in some memorable golfing moments.
9) Links Lady Bay:
Near the seaside town of Normanville you will find the Lady Bay Hotel and the championship Links Lady Bay Golf Course situated along the banks of magnificent Lady Bay. 
Features:
  Designed by Newton, Grant and Spencer, the course features gently undulating couch fairways and vast, smooth and subtle Bent greens. 
  A slope rating of 140 makes Links Lady Bay's Blue Tee the most challenging golf course in South Australia.
10) Echunga Golf Club:
The Echunga Golf Club is located in the Adelaide Hills town of Echunga, only five minutes from Hahndorf and 30 minutes from Adelaide's CBD.
Features:
With its lush fairways and excellent greens, the 18-hole course runs through gently undulating land among majestic gum trees.

It features a par 70 of 5458 metres for men and a par 71 of 5084 metres for women. 

Featuring a range of tee blocks and a variety of holes, the course offers a stern test to golfers of all abilities. As a result, the course is suitable for golfers of all skill levels.
11) Blackwood Golf Club:
The Blackwood Golf Club is one of the best golf courses in the Adelaide Hills, located in Cherry Gardens. 
Features:
A beautiful bushland setting with plenty of natural wildlife surrounds this 18-hole, par 72 golf course.

All levels of golfers can enjoy the picturesque course. 
12) Higher combo Golf and Country Club:
Located in the Adelaide Hills, the golf club hosts great corporate golf days.
Features:
Originally established in 1967, it has evolved into a scenic and challenging 18-hole, par-70 golf course. It extends to around 6000 meters.

Featuring many bunkers, treelines, and hazards, this magnificent course boasts beauty and world-class golfing amenities.
Ending Thoughts:
If you're looking for challenging golf courses down under, why not check out the aforementioned golf courses in Adelaide? Whether you are interested in world-class golf courses, exciting sights and destinations, or delicious food, Adelaide and South Australia have all the best sports attractions in Australia.
Are you trying to find the best golf tour package in Adelaide? Take the hassle of travel arrangements out of your golfing trip and book your low-cost Adelaide golf tour packages with OZ Golf tours. Whether you decide to take two or three days, our friendly team will ensure you get to and from any of these great courses comfortably and conveniently.