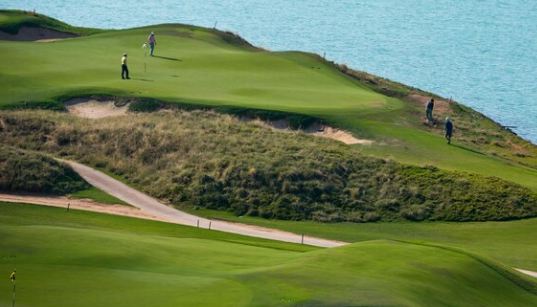 25 Oct

The Top Golf Tour Destinations in Tasmania

With its jaw-dropping natural beauty, abundant fresh produce, and world-class wines, Tasmania has quickly become one of Australia's most enticing holiday destinations. A trip to the island state ticks all the boxes when it comes to golf, with some of the country's best and most scenic Tasmania golf tours.

Tasmania boasts some of the most scenic and unusual golf courses in the country. The courses are scattered across the sand dunes, perched on dramatic coastlines, etc.

Here are some of the top Tasmania golf tours destinations:
1) King Island:
 This coastal destination offers links-style courses at Cape Wickham and Ocean Dunes Golf Course, both ranked in the top 20 in Australia. While Cape Wickham stands in the shadow of Australia's tallest lighthouse, Ocean Dunes hugs the coast of the Southern Ocean.
2) Barnbougle:
 Located along a dune-lined strip of coast at Bridport, these courses started Tasmania's golf revolution. The Dunes and Lost Farm are among Australia's top courses, and Bougle Run, a short 14-hole course with great views, is the newest addition.
3) Adelaide Golf:
 Adelaide is one of the best-golfing destinations in Australia. Plenty of golfing and non-golfing options are available to celebrate the South Australian border opening in style. You have several options for restaurants, bars, vineyards, or perhaps relaxing on the ocean at Glenelg.
4) Tasmania Golf Club:
 Tasmania Golf Club is located on the northern tip of the peninsula, east of Hobart. An enjoyable golf course in Hobart for a weekend getaway. A well-maintained and spectacular golf course is available, including fine dining and a wonderful bar.
5) Sunshine Coast Golf: 
The Sunshine Coast is one of Australia's most popular tourist destinations, and it has some of the best golf courses in the country, including Peregian, Noosa Springs, Pelican Waters, Maroochy River, Twin Waters, & Headland. The Sunshine Coast is home to a wide variety of golf courses, ranging from 9-hole par threes to championship courses. 
6) Kingston Beach Golf Course:
The Kingston Beach Golf Course is located south of the city. It is one of the most accessible Hobart golf courses and boasts a superb golf course. With stunning waterfront views, it offers excellent dining and drinking options.
7)
Perth Golf Courses:
Perth, Western Australia, offers great weather year-round, azure skies, and some world-class golf courses, which are great for stay-and-play golf packages. With courses from Joondalup to Kennedy Bay, Western Australia is home to some of the most breathtaking courses in the country.
8) Mornington Peninsula:
The Mornington Peninsula offers an exceptional golf experience to golfers of all skill levels. Just to name a few, the region has 10 courses ranked inside Australia's top 100, including The Dunes, St Andrews Beach, and The National. 
9)
Hunter Valley: 
This fantastic course has been designed by Australian royalty Greg Norman and will challenge even the most seasoned golfers. With its tranquility, pristine waterways, and natural beauty, this area is the perfect fusion of golf, leisure, relaxation, and seclusion. 
Conclusion:
If you are heading to Tasmania for a vacation, take a moment to celebrate your golfing after playing at some of the state's most renowned golf courses.
Ready to book your next Tasmania golf tour? OZ Golf Tours offers hassle-free, cost-effective packages that include everything you need for your golfing holiday.