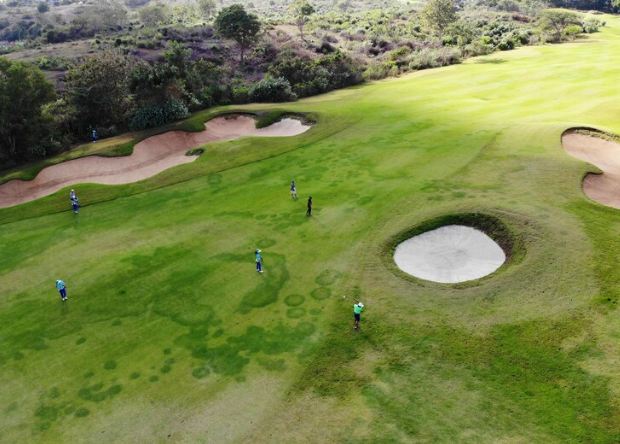 29 Nov

The Top 5 Reasons to Visit Tasmania for Golf Tours

Featuring more than 65 courses and two of the world's top 100 golf courses, Tasmania offers a variety of golf courses for everyone. In terms of golf tourism, Tasmania continues to be the state that attracts the most visitors from interstate. Clearly, the state's international profile and relatively low pricing compared to its global peers positively impact the amount of international golf tourism attracted here. 

In this article, we'll look at the top five reasons to take a Tasmania golf tour: 
1) Great Weather: 
During December and March are the best months to visit Tasmania for golf because of its unpredictable weather. However, the temperature is usually comfortable & Tasmania is a place where you can enjoy four seasons in one day. Consequently, many golf tourists visiting Tasmania believe the mild weather adds to the charm of playing links golf on two of the best layouts in the world.
2) Barnbougle Dunes: 
A must-play for every golfer in Australia, Barnbougle is ranked as the No. 1 public golf course in the country and No. 21 worldwide. Although Barnbougle Dunes is strong enough to challenge gifted golfers, it is also fair enough for the average golfer to enjoy it. In terms of layout, the 18-hole championship layout is comparable to the great links courses in the UK and Ireland. Lost Farm at Barnbougle is a breathtakingly beautiful golf course that is dramatically different and yet complements the surrounding landscape of Barnbougle Dunes at the same time.
3) Tasmania is definitely a Culinary Paradise:
 In Tasmania, you can enjoy food delicacies produced in a pristine environment. The island beckons gourmets with its history, food, and great golf courses. From fresh fruits to olives, premium quality cheese, honey, coffee, vineyards, and varieties of fishes, Tasmania is spoiled for choice when it comes to exploring food. 
4) King Island:
With its distinctive and unique landscape and contemporary pleasures, like some of the world's best food, wines, and golf courses, King Island is truly another world. It's not just a golf paradise, King Island is also home to some of the world's best golf courses. Known for its rugged coastlines and unparalleled views of the Bass Strait, King Island is a bucket list destination for golf, wine, and food enthusiasts. Three of Australia's most iconic golf courses are located on King Island, Cape Wickham Links, King Island Golf and Bowling Club, and Ocean Dunes. Over the past few years, these courses have grown in popularity and have become bucket-list luxury stay-and-play destinations.
5) Easy Travel Access: 
No matter how you arrive here, whether it's by plane, ship, ferry, or road trip, this small island separated from mainland Australia is easily accessible. The shortest and most frequent flights (about one hour) to Tasmanian destinations originate from Melbourne, the next closest mainland city. It takes between 9 and 11 hours to sail from Melbourne to Devonport on the Spirit of Tasmania ferry. 
Final Thoughts:
Featuring five courses in the top 100 globally and Australia's oldest golf course, Tasmania is indeed your ticket to a terrific golfing experience with pristine surroundings & premium eats.
Are you in search of the best Tasmania golf tours? OZ Golf Tours offers hassle-free golf packages with quality, luxury, comfort, affordability, and professional service.